Hi, my name is Elizabeth Simental, and I'm so happy to be teaching 3rd grade here at Cedar Creek Elementary. I have a bachelors degree in International Studies from Texas State University and am certified to teach Early Childhood through 6th Grade. I am also certified in Bilingual Education. I have taught 3rd grade for 5 years but also had the pleasure of working with 4th grade for 2 years.

This year we will be learning to analyze reading and writing at a deeper level than previous year as well as composing narrative and expository writing essays. In reading, we will learn different genres and understand the different genres to become a better reader.

The best way to reach me is by email at esimental@bisdtx.org, or you can call the school at 512-772-7600 between 8:20-9:10 am.

If you have a concern about your child's progress, please be in touch. I am excited to teach your child this year and look forward to getting to know your family.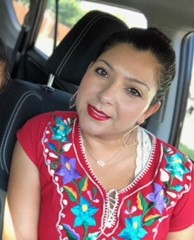 Contact Information
Conference Time: 8:20-9:10 am

Phone: 512-772-7600

Email: esimental@bisdtx.org