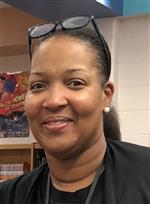 Contact Information
Benita Collins

Phone (512) 772-7425

Email: bcollins@bisdtx.org
My name is Benita (Pollard) Collins. I am in my 16th year teaching in public education. In my 16 years of teaching, I taught 5th grade on-level and Pre-AP Math for 7 years. I was a Girls Athletic Coach, taught 8th grade Math, and was the campus Math Interventionist for RTI pullout support 2 years. The past 7 years, I have taught 7th grade on-level and 7th grade Pre-AP math.

I earned a full athletic scholarship to attend the University of Texas in Austin as a student-athlete and a proud alumni of Texas Women's Basketball. I played Texas Women's Basketball (Lady Longhorns) under Jody Conradt in 1990 – 1994. I attained my Bachelor of Science in Applied Learning and Development from the University of Texas at Austin, Post-Baccalaureate in Elementary Education from Western Governors University, and Masters of Science in Education – Teaching Middle and Secondary Mathematics from Purdue Global University.

When I am not teaching my awesome students, I enjoy spending time with my amazing husband, supporting our 4 phenomenal children and cheering on the Texas Longhorns!
Last Modified on October 1, 2020