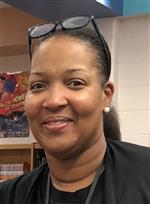 Contact Information
Benita Collins

Phone (512) 772-7425

Email: bcollins@bisdtx.org
I am in my 16th year teaching in public education. I began my teaching career in Austin ISD. In 3 years teaching in Austin ISD I taught Special Education, 5th grade Math, Social Studies and Science. In 2005 my family and I moved to Bastrop, Texas. I continued my tenure teaching in Bastrop, teaching 5th grade on-level and Pre-AP Math for 6 years at Cedar Creek Intermediate. In 2012, I was given the oppurtunity to coach 7th and 8th grade Volleyball, Basketball, Track and teach 8th grade Math at Cedar Creek Middle School. After a couple of years of coaching girls athletics, I decided to focus on teaching Math. Since, I have had the pleasure of applying my coaching skills in motivating students to learn 7th grade on-level, 7th grade Pre-AP and 8th grade Math.

I was blessed to receive a full athletic scholarship to attend the University of Texas in Austin to play basketball for the Lady Longhorns under Jody Conrady. I attained my Bachelor of Science in Applied Learning and Development with a major in Youth & Community Studies and minor in Human Development and Family Science from the University of Texas. I also attained a Post-Baccalaureate in Elementary Education (Pre-K - 8th) and Masters degree in Teaching Middle and Secondary Mathematics.

When I am not teaching my awesome students, I enjoy spending time with my beautiful family and supporting the Longhorns!
Last Modified on June 4, 2020