How Long have I been at RRE?: I began teaching at Red Rock in

What do I teach?: I teach all subjects in first grade including science, math, language arts, reading, and social studies.

What do I like to do in my spare time?: I enjoy reading and coloring. When the weather is nice I enjoy walking.

My favorite colors are: I like blue, and I really like blue and brown polka dots.

My favorite music is: I love Spanish music especially Boleros!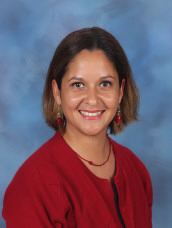 I can be reached from 9:30-10:20am during my conference, or before and after school.