Hello, my name is Karly Rivers, I've been teaching for three years, and this is my first year teaching at Red Rock! I truly believe I couldn't have chosen a better teaching home than RRE, our students are the best! I teach 4th grade Reading, writing, and social studies. In my spare time I like to read, write, shop at Target, and watch movies with my friends and my cat Binx.

These are a few of my favorite things:

-My favorite colors are orange and pink!

-My favorite food is fruit (strawberries, mango, apples, grapes, etc)!

-My favorite store is Target or Dollar Tree :)

-My favorite drink is coffee!

-My favorite candy is Reese's peanut butter cups :)

I am so excited for this year with you all, and can't wait to continue having fun and growing as learners!

We are a Rainbow of possibilities!

Here's how I spend my time at Red Rock:

7:15-7:30 Breakfast

7:30-7:40 Announcements

7:40-8:00 SEL

8:00-8:25 Reading

8:25-9:15 Guided Reading/Reading centers

9:15-9:30 Word Study

9:30-9:50 Writing

9:50-10:20 Writing centers

10:20-11:10 SPECIALS/Teacher Conference Period

11:10-11:50 Intervention/Enrichment

(Classes switch)

11:50-12:10 Lunch

12:10-12:40 Recess

12:40-1:50 Reading

1:50-1:55 Guided Reading/Reading centers

1:55-2:10 Word Study

2:10-2:30 Writing

2:30-2:50 Writing centers

2:50-3:00 Dismissal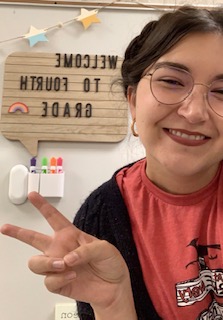 How to get ahold of me:

My Email: krivers@bisdtx.org

My Classroom phone number: (512) 332-2670 (Ext. 54200)

My Conference period: M-T & Th-F @ 10:20 A.M. - 11:10 A.M.

If you ever have any questions, comments, or concerns,

please feel free to email me, as I check my email more frequently

than my voicemail!