Bastrop ISD COVID-19 Dashboard
The purpose of the COVID-19 dashboard is to provide families, staff and our community with a transparent summary of COVID-19 cases that occur in our facilities.

This data will be updated weekly every Monday and will include new active cases that occurred in the previous week.

To see active cases by location and historical trends by week, please scroll to the bottom of this page. Beginning Monday, August 23rd, the public can see detailed case reports that have occurred on a given day. Please visit the Detailed Case Reports link in the menu bar for this information.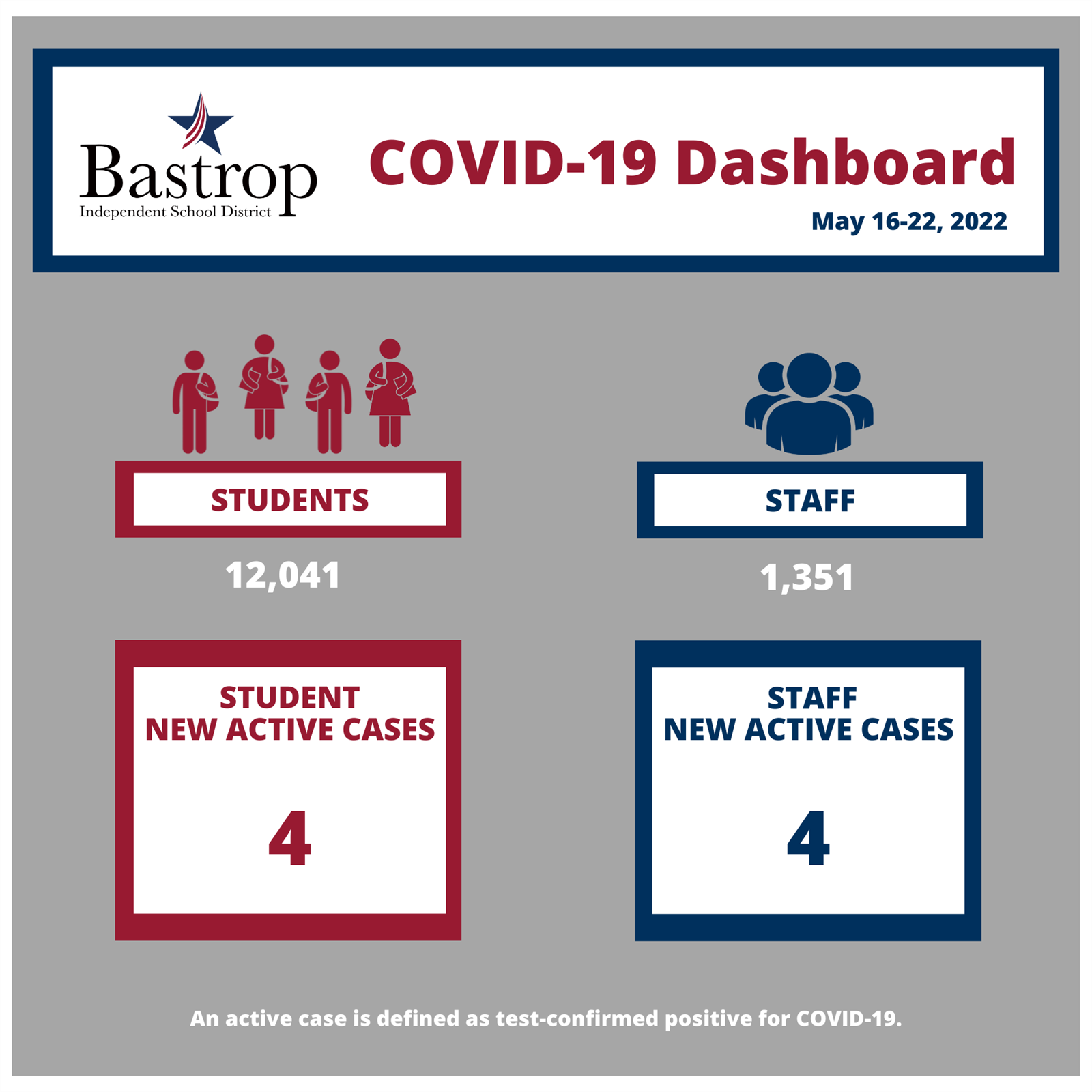 ACTIVE CASES BY LOCATION (21-22)
| CAMPUS | ACTIVE CASES | STAFF | STUDENTS | TOTAL CASES SINCE 7/1/21 |
| --- | --- | --- | --- | --- |
| Bluebonnet Elementary | | | | 128 |
| Cedar Creek Elementary | | | | 102 |
| Emile Elementary | | | | 138 |
| Lost Pines Elementary | | | | 107 |
| Mina Elementary | | | | 147 |
| Red Rock Elementary | | | | 150 |
| Bastrop Intermediate | 1 | | 1 | 178 |
| CC Intermediate | | | | 143 |
| Bastrop Middle | 2 | | 2 | 171 |
| Cedar Creek Middle | 2 | 2 | | 149 |
| Bastrop High | | | | 286 |
| Cedar Creek High | 1 | | 1 | 303 |
| CRCA | | | | 37 |
| Genesis High | | | | 21 |
| Gateway DAEP | | | | 18 |
| District Level | 2 | 2 | | 49 |
| Bluebonnet CDC | | | | 1 |
| Emile CDC | | | | 14 |
| Cedar Creek CDC | | | | 1 |
| JJC | | | | 1 |
| Bastrop Works | | | | 3 |