Return to Headlines
Namken hosts Bastrop Summer Classic tennis tournament benefiting BHS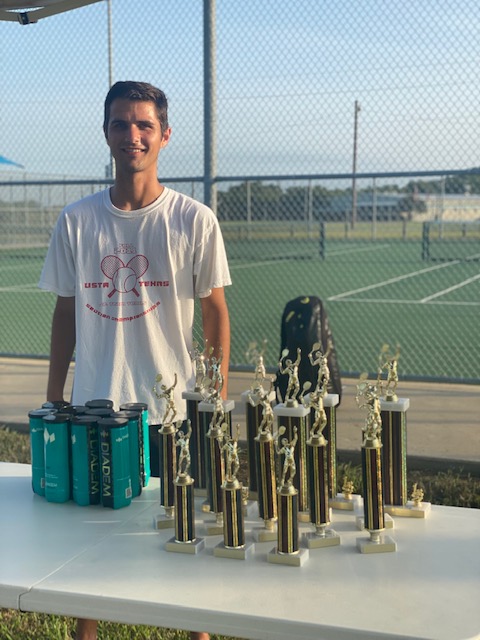 Written by Mabel Zhu, CRCA Senior/Communications Intern in collaboration with Lauri Anzaldua, BISD Communications
Growing up, Jake Namken found his love of tennis at the early age of 11 and hasn't looked back. A four year letterman for the Bastrop High School tennis team, he knew early on that he always wanted to give back to the community where he grew up.
"Tennis has taught me so much over the years, and I decided to put on a tennis tournament in Bastrop to give back to the community. I wanted to get the youth involved in tennis," Jake said.
That desire propelled the dream of the Bastrop Summer Classic, a tennis tournament hosted at Bastrop High School this July. Once Jake received approval to host the tournament, he got straight to work. From making phone calls and creating announcements to setting up the tournament, Jake was just as passionate to fulfill his dream as he was when it all started years ago.
The tournament was open to all ages in both singles and doubles matches, ending in a turnout of people from ages 13 to 53, with a total of 38 participants. Through Jake's dedication and hard work, along with the help of volunteers, the tennis tournament was a success, raising a total of $1,100. The money was donated to the BHS tennis program.
Jake continues to motivate his peers to never stop pursuing their dreams.
"My best advice to my peers is in order to be successful in life, you must appreciate and give back to others. There is no greater satisfaction. My advice to young people just starting out in tennis is to practice and never give up. If you at first do not succeed, dust yourself off and try again," Jake said.
Jake hopes to host future tournaments in Bastrop whenever he is in the area. Namken is headed to Texas Tech in the fall to continue his academic career by pursuing a Master of Business Administration degree.