Return to Headlines
BISD Communications Department Earns Numerous Awards
February 27, 2019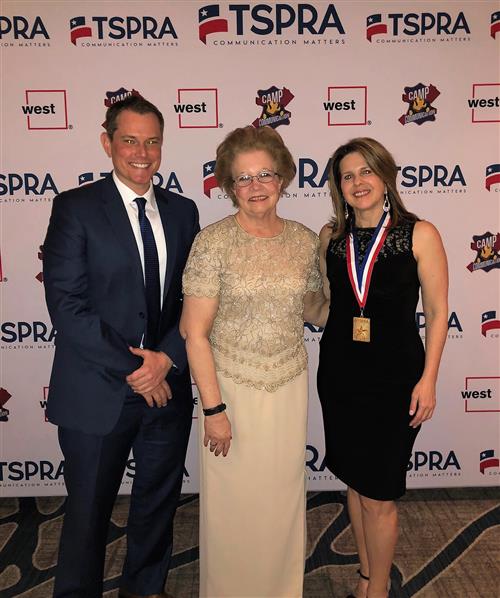 (Bastrop) – The Bastrop ISD Communications & Community Relations Department was recognized by the Texas School Public Relations Association (TSPRA) during its annual statewide conference held February 18-21 at the Hyatt Regency Lost Pines Resort & Spa.
During the awards ceremony held February 20, Bastrop ISD earned five Gold awards, two Silver awards, and one bronze award for its efforts in advertising, planning, feature writing, and video production. The department also earned two Best of Category medals for the BISD Communications Department Guidebook and the Calendar/Annual Report.
"One of our three key priorities in BISD is relationships, and our Communications Office has been vital to helping us build trust and credibility with our staff and with our community at large," said Barry Edwards, Superintendent of Schools. "They tell the stories that need to be told and celebrate the successes of our students and staff each and every day. It's great to have amazing stories to tell and a talented communications team to tell them!"
More than 725 members of TSPRA attended this year's conference and participated in professional development and training in communications, marketing, social media outreach, photography, videography, and community engagement. In addition to facilitating a breakout session on community partnerships and a panel presentation on effective communication outreach, Lee served as the TSPRA conference co-chair. Throughout their stay, guests also had the opportunity to experience Bastrop shopping, dining, and nightlife thanks to Susan Smith, President/CEO of Visit Bastrop, who arranged and coordinated convenient shuttle service for conference guests from the Hyatt into Bastrop.
"On behalf of our entire team, I want to say how much we appreciate the recognition by our colleagues in TSPRA. It was an honor to represent Bastrop ISD to public relations professionals from around the state and to proudly stand up for this amazing district and community," said Dr. Kristi Lee, Executive Director of Communications & Community Relations. "We consider it a privilege to spotlight our students and teachers and share all the good that is happening in every corner of BISD. It was also special to hear such positive comments and feedback from conference attendees about our city and all we have to offer."
Bastrop ISD is a fast-growth school district 30 miles southeast of Austin. The district encompasses nearly 450 square miles and serves more than 11,000 students from the communities of Bastrop, Cedar Creek, Paige, Red Rock, and Rockne.
###
(Pictured L to R, Nick Spinetto, Communications Coordinator; Monica Faulkenberry, APR and TSPRA President; Dr. Kristi Lee, Executive Director of Communications & Community Relations)