Return to Headlines
Bastrop ISD Holds School Safety Symposium
June 27, 2018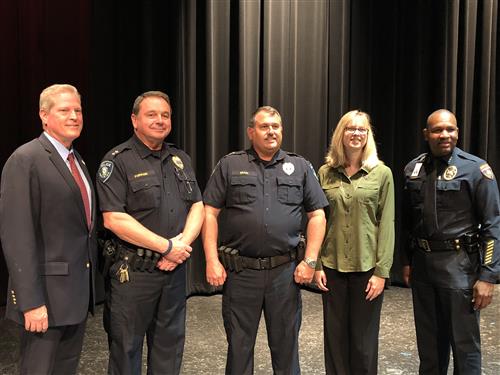 (Bastrop) -- Today Bastrop ISD hosted an all-day school safety conference that brought together more than 325 law enforcement officers, school district leaders, school district police departments, communications officers, as well as city, county, and state agencies from around Texas. The goal of the symposium was to learn firsthand from law enforcement officers who responded to the Santa Fe High School shooting on May 18, 2018 in Santa Fe, Texas, and to have an open dialogue around safety in our schools.
"Without a doubt, I know that every single person in this room cares deeply about our children and wants to do everything in their power to protect them and to ensure that our schools are safe places to learn and to teach," said Barry Edwards, Superintendent of Bastrop ISD. "The fact that you are here today shows a deep commitment on your part to learning whatever you can from that terrible day of May 18th, a tragedy which our friends and colleagues in Santa Fe ISD continue to grapple with. We aren't going to get all the answers today, but we will get one step closer."
Santa Fe ISD Police Chief Walter Braun and Assistant Chief Gary Forward shared their experiences from the Santa Fe High School shooting event, including the challenges they faced and the lessons they learned as a result of the tragedy. Accompanying them was Santa Fe ISD School Board President Rusty Norman. Trooper Mauro Arce and Sergeant Paul Adkins, both from the Texas Department of Public Safety, were first responders to the scene and spoke at today's symposium. Because it is still an active and open investigation, law enforcement officials were not at liberty to share details of the investigation with the audience.
Other topics covered in the course of Bastrop ISD's School Safety Symposium included active shooter response, scene management, and crisis communications. Media relations expert Kristen Dark, who serves as the Senior Public Information Officer for Travis County Sheriff's Office, discussed the importance of timely and accurate information for the public, as well as partnerships between law enforcement and school districts. Criminal justice policy advisor to Governor Abbott, Brody Burks, shared highlights from the Governor's school safety action plan. Texas DPS Regional Director, Phillip Ayala, discussed state law enforcement response and resources available to responding agencies and school districts to continue improving statewide efforts to confront and support school safety protocols and practices. Closing out the day was Dr. Florence Adkins, principal at La Marque Middle School and wife of Sgt. Adkins, who discussed her research in police officer perceptions regarding school safety.
Bastrop ISD Police Chief Jeffrey Yarbrough was the emcee for today's symposium, which also included a number of vendors who specialize in school safety products and services.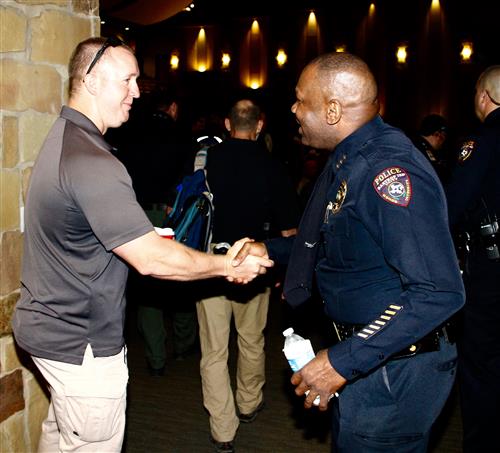 "We are so honored to have all of you here today in Bastrop, a place where we have tremendous partnerships with our community, with the city and county, and with our colleagues in law enforcement," he said. "We truly do work together with one goal in mind and that is to protect all the students and staff in our schools. We appreciate Bluebonnet Electric and the Bastrop Chamber of Commerce for their support of today's event as well. It was a tremendous day!"
Bastrop ISD will join together with Bastrop Police Department, the Bastrop County Sheriff's Office, the Bastrop Fire Department, and other local agencies this summer and throughout the year to review and practice protocols. We will continue our partnership to prepare for enhanced teacher and student training when the 2018-2019 school year begins. District and agency officials will also debrief today's School Safety Symposium for ways to improve current practices. These steps are in line with the district's highest priority of school safety. The BISD school board has made this a key focus area, and several board members were on hand to participate in today's event including Vice President Molly McClure, and trustees Billy Moore and Kellye Seekatz.
Bastrop ISD is located 30 miles southeast of Austin and serves nearly 11,000 students from the communities of Bastrop, Cedar Creek, Red Rock, Rockne, Paige and other rural areas of Bastrop County.
###