Return to Headlines
Jennifer Eberly Named Director of Early Literacy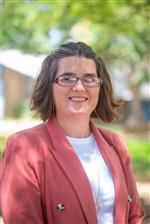 Jennifer Eberly has been named the Director of Early Literacy for Bastrop ISD. She replaces Reba King who accepted a consulting position with The Meadows Foundation. Eberly began her new position June 1.
"We have made tremendous strides in our early literacy initiative and are excited to have Jennifer joining the team," said Superintendent Barry Edwards. "I am confident the expertise she brings to the table will make a difference in Bastrop ISD."
The goal of the Early Literacy department is to address the district's focus on literacy and learning in the early grades. The Director of Early Literacy works collaboratively with teachers, instructional coaches, and elementary school administrators to implement early reading programs for pre-kindergarten through first grade.
"The number one focus will be helping students develop early literacy skills by implementing intervention programs to make sure students have the skills they need to be successful," added Edwards.
Eberly has over 20 years of experience in public education. She most recently served as the principal for Hillcrest Elementary in Del Valle ISD since 2018. Prior to that, she was the Instructional Administrator/Assistant Principal at Del Valle Elementary for six years. She also has teaching experience from kindergarten through sixth grade.
"I am excited to be joining the BISD team. I believe in this school community and am ready to continue building on the work that has already started to support our staff, families, and youngest learners. Building a strong foundation in the primary grades is key to future success, and I am ready to help lead the way," said Jennifer.
Eberly has a Master of Education from Lamar University in educational administration and a Bachelor of Arts from Texas State University. She holds credentials of EC-12 principal, teacher 1-8 elementary self-contained, EC-12 special education, EC-12 English as a second language, and 6-12 dance.
Jennifer and her husband Derek, who serves as the Associate Director of Special Programs and Services for BISD, have three children. In their spare time, they enjoy spending time with their family and being outdoors.