Return to Headlines
Perkins Earns Million Women Mentors - Texas 2021 Educator Stand Up for STEM Award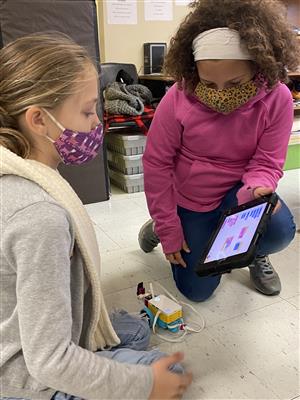 Students at Bluebonnet Elementary can't wait to get to their Gifted and Talented (GT) classroom. It's evident that they're excited about the STEM projects that GT Teacher Peggy Perkins incorporates into the curriculum, as they show off their most recent projects.
With all the STEM activities that Perkins includes in her lessons she is most undoubtedly deserving of her most recent award - the prestigious Million Women Mentors – Texas 2021 Educator Stand Up for STEM Award.
"Bluebonnet Elementary is very fortunate to have a knowledgeable child-advocate who can instill scientific curiosity in the minds of our young students," said Dolores Godinez, Bluebonnet Elementary School Assistant Principal.
Nominated by a parent of one of her students, Perkins was really shocked when learning that she was one of the 2021 Texas award winners.
"I feel humbled and honored to be recognized. I am able to incorporate STEM activities into the gifted/talented curriculum for grades K-4. STEM projects in my classroom involve hands-on, minds-on activities; incorporating critical and creative thinking, and problem solving skills. Student activities relate to relevant real-world learning experiences, with career awareness and opportunities," Perkins said.
This award recognizes individual educators or educational teams from K-12 schools, PK schools or non-profits, educational non-profits and similar organizations. Nominees must demonstrate a commitment to engaging STEM mentors and role models in programs encouraging girls to pursue STEM careers, increasing the diversity of those pursuing STEM careers and retaining girls who enter the STEM education pipeline.
"I am hoping that I can spark an interest, not just for girls, in the area of STEM, but for any student who may have a passion or desire in pursuing a career in STEM. They just may not know it yet," Perkins added.
Check out the award presentation at: https://www.youtube.com/watch?v=o6crhIJ6TrQ.