Return to Headlines
Signs Deliver More Play for ECSE Students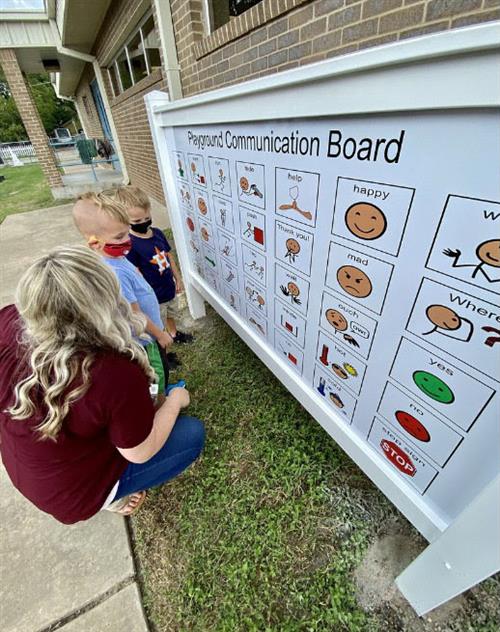 On a warm, sunny Wednesday afternoon, Finn Williams and Dane Lewis are busy playing with Mina Elementary's new playground equipment. It's not a typical playground staple like a slide or swings. Instead, it's a large, six-foot-wide white sign with colorful pictures and words, an eye-catching and unique addition with a simple purpose.
"The sign is a communications playground board. The goal of this communications board is so our non-verbal students can use it to communicate with a teacher or their friends. They do this by pointing to the picture and word," said Katlyn Wilkerson, an early childhood special education teacher at Mina Elementary.
Prior to the board's installation, non-verbal students who wanted to communicate with a classmate or needed something would have to go get a speech teacher who had a lanyard with symbols and words on it. The student would then point to the images to voice their wants and needs. Wilkerson pointed out that this took time away from the student's recess and being a kid. "Now instead of finding a teacher, the students can go to the board together. Our non-verbal students can point to the images to tell the other student what they want to play or what they want to do. In BISD, all means all. This communication board allows all our students to communicate on their own," she said.
The board was purchased with grant funds from the Bastrop Education Foundation. "I first saw this idea in Michigan, and I knew it would be beneficial here, so Mrs. Schmitz and I got together and started working on writing the grant," Wilkerson explained.
Though she's now retired, Jeannette Schmitz reflects back on her time working with her non-verbal students. "I was always out at recess with the kids, but sometimes I had only one or two pictures with me, so I would be going all over the playground pointing, trying to understand what they wanted. When Mrs. Wilkerson told me about this idea, I knew I had to help. It's a wonderful tool for the students."
A similar board is used inside the classroom, so Mrs. Wilkerson said it only makes sense to have one outside too. "It's an innovative way to help our students continue to grow and learn. One of our goals is to encourage students to be more independent and this board helps to achieve that," Wilkerson said.
Word of the Playground Communication Board is already starting to spread. Staff at Bluebonnet Elementary reached out to Mrs. Wilkerson so they can get one too.