Return to Headlines
CRCA Eagle Scout Project Leaves Lasting Legacy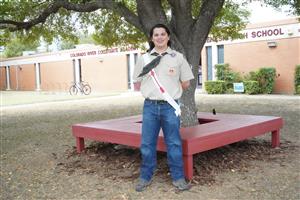 Colorado River Collegiate Academy (CRCA) just got an upgrade to their front landscape. Senior Kemper Morrow completed his Eagle Scout project by designing, financing and building a wrap-around bench in the front area of the campus this past month.
"The entire faculty and student body at CRCA is very proud of Kemper Morrow. He embodies the traits of honor, loyalty, courage, responsibility and service. The bench he and his team constructed created a welcoming, student-centered area on the school's front lawn that will be enjoyed for years to come," said CRCA Principal Martin Conrardy.
Kemper has been in scouts since he was eight years old, starting out as a bear in Cub Scouts before moving over to Boy Scouts when he was 11. "I've always been in the same amazing troop, Troop 2010," he said. While other family members have been in the program briefly, Kemper and his brother are the only ones who stuck with it.
Kemper is very close in his journey to becoming an Eagle Scout. To achieve Eagle Scout, a scout needs several merit badges and must have been a leader in his Troop for a long period of time, before turning 18 years old. An Eagle Project entails a test of a scout's organization, time management and leadership skills. "The end goal is proving that you are a capable leader," Kemper added.
When Kemper was planning his Eagle Project, he thought about the impact that CRCA has had in his life and wanted to give back to the school.
"I knew that my project was an opportunity to leave my mark on my community. I recalled when my friends would like to go outside and eat under the tree and there were always bugs to worry about and no places to put your bags or food. So, having always wished there was a bench there, I took the opportunity and began planning," Kemper said.
The bench project took about a month to design. He had an initial plan and with the guidance of adult leaders, crafted the final design. The next step was financing the project. Kemper said it took about a month and a half to line out materials, quantities and prices. "I'll be honest, being a broke high school student, seeing how much money this project would cost was daunting, but thankfully, another aspect of an Eagle Project is securing sponsors and donations," he said. Donations came in from family, friends, teachers from CRCA, and companies that wanted to show their support.
The next step was building of the bench, which took a lot of hands on deck. "When it came to finally assembling the bench, I reached out to more than just my Boy Scout Troop. I had volunteers from the National Honor Society, as well as friends from CRCA," Kemper said. The volunteers helped him with plotting and digging holes and pouring concrete. After that, the Boy Scouts worked on the concrete foundation to build the bench.
"There're so many people that helped make the project come to fruition. It's honestly amazing," he said smiling.
Kemper says he plans on putting his future son in Boy Scouts because "this program is one of the most valuable things I've ever been a part of and will always stay with me no matter what."