Return to Headlines
Olivarez Successfully Defends Dissertation
May 1, 2019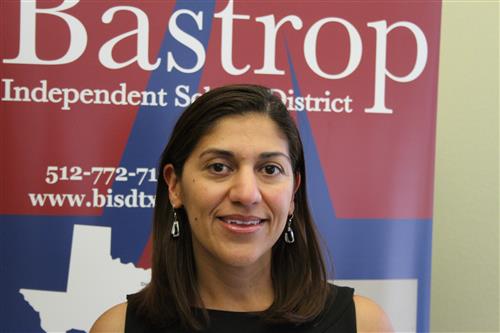 (Bastrop) – Adelaida (Laila) Olivarez successfully defended her doctoral dissertation last month to a committee of scholars at the University of Texas at Austin. Her dissertation is entitled Persistence in the Superintendency: Latina Superintendents' Perspectives. She will be awarded the degree of Doctor of Education at a ceremony May 25, 2019.
"Obtaining this degree is the fulfillment of a lifelong dream," said Olivarez. "Persistence, goal setting, and patience with all things yields results. I learned a lot about balancing work, personal, and school commitments, and I was exposed to new ideas, systems and structures. Most importantly, I made new friends."
Olivarez has served Bastrop ISD as the Associate Superintendent of Curriculum and Instruction since 2017. She was formerly in Elgin ISD as the Assistant Superintendent of Academics and Student Improvement for two years. She also had stints as assistant principal and principal in both Del Valle and Bastrop schools. Olivarez began her career as a bilingual teacher in Del Valle ISD where she taught kindergarten, first and fourth grades for four years.
The doctoral program Olivarez completed is a 69-hour program with courses in leadership, strategic thinking, policy and governance, human relations, law, school finance, and operations. She holds a master's degree in educational administration from Texas State University and a bachelor's degree in elementary education from St. Edward's University. Her advice to young education leaders reflects her own experience.
"Dream and aspire, but then plan and dig in. Most importantly, show up and be present once you commit to a future educational pursuit."
Barry Edwards, Superintendent of Bastrop ISD, commended Olivarez on her persistence in accomplishing a lifelong goal.
"We are so proud of Laila's perseverance, work ethic, and dedication, not only to her studies and her education, but also to Bastrop ISD," said Edwards. "It is no easy feat to work long hours, raise a family, and complete a doctorate simultaneously, but Laila has done so with grace and poise. Congratulations Dr. Olivarez!"