Return to Headlines
Breakfast Bunch a Win-Win-Win!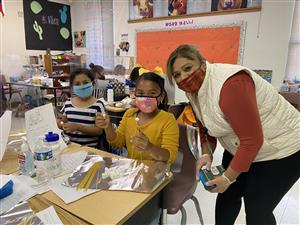 You'll typically find the ACE program all abuzz after school on ten of Bastrop ISD's campuses, providing students with academic and enrichment opportunities. This year, several elementary programs have flipped the script and added a new opportunity for students called Breakfast Bunch, which takes place first thing in the morning.
"The Breakfast Bunch sessions are designed to provide students with a story and an activity each day while they eat in their classroom. Some classrooms show the story video, and others use the activities and short quizzes also. At Cedar Creek Elementary, Erica Phares (ACE Coordinator), has taken it even a step further going into the classrooms each week to do one of the activities with the students, while the teacher works with small groups or attends to other tasks," said Karen Trevino, ACE Project Director.
The main goals are to stimulate little minds in the morning, to build relationships between the ACE Coordinator, teachers and students, and to provide teachers with thirty minutes of time to use however they see fit. The benefits of the program are already showing.
"It makes students feel important," said Phares. "They look forward to listening to the stories and answering questions from the quiz. Reading comprehension is also an added benefit."
CCE principal Kelli Ruby agrees. "The teachers who use this program find it to be a great tool for building social and emotional support for the students. The kids enjoy being a part of the breakfast bunch immensely."
One teacher at Cedar Creek Elementary rated the Breakfast Bunch "the greatest thing" and has recommended the program to other teachers. "It's been a win-win-win for ACE, the teacher and the kids," added Trevino.