Return to Headlines
Christian's Closet gets a new home!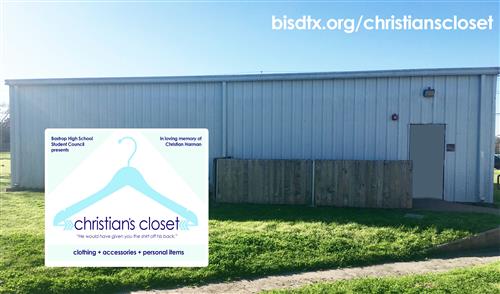 ~CHECK OUT OUR NEW CHRISTIAN'S CLOSET WEBSITE HERE~
Thanks to BHS Principal Brad Brown, work crews, and a team of sponsors, Christian's Closet has a new home in a renovated warehouse on the BHS campus that also houses the Theater Department's costumes and props. During Spring Break earlier this year, the first phase of the renovation began that would allow the two groups to share the space. By summertime, the building had been cleared, cleaned and a wall built to separate the warehouse into two distinct spaces.
Phase two involved painting the interior and getting it ready to receive all of the clothes, shoes and other items. First National Bank, BISD's community partner of the year, generously donated funds to purchase paint and other supplies, and members of the BHS StuCo the labor.
"It's so heartwarming to know that taking a few weeks of my summer to help will impact so many families and so many individuals' lives," said Alex Mitchell, a senior at Bastrop High School and Student Council officer. "The simple act of painting the new building allowed for more space, security, and access for Christian's Closet." Another StuCo member Regan Ferem echoed that sentiment.
"Over the past few weeks our StuCo team worked extremely hard to finish and organize Christian's Closet. I'm grateful I was able to be a part of it, and I'm excited to see the impact that this expansion will make on so many people's lives," said Ferem.
Students in crisis or in housing transition need services like Christian's Closet, says Norma Mercado, Bastrop ISD's Foster Care & Homeless Liaison.
"The extra space allows us to accept more donations and organize clothes better so that we can keep everything separated by size and gender. The new space also provides easy access and confidentiality. In the previous space we were limited to the time when students were not in class and some of the high school students did not feel comfortable accessing resources when other students were present. So this new space allows them to feel more comfortable."
In addition to the flagship location at BHS where Christian Harman leaves his legacy, three smaller Christian's Closets exist on the campuses of Cedar Creek High School, Bastrop Middle School, and Lost Pines Elementary.
"I think Christian's family and his parents would be really proud that his memory has impacted the lives of so many families and students in such a positive way," said Norma Mercado.
If you'd like to donate to Christian's Closet, these items are needed for both girls and boys:
| | |
| --- | --- |
| Clothing | Elementary thru High School |
| Tennis Shoes | Middle and High School |
| Sneakers | Elementary thru Middle School |
| Body Spray | High School |
| Gym Shorts | Middle and High School (boys only) |
| Shorts | High School |
| New Undergarments (unused) | Elementary thru High School |
| Socks | Elementary thru High School |
| Duffle Bags | Middle and High School |
| Hygiene Items | Elementary thru High School |
| Towels | Elementary and Middle School |
~ You can also click HERE to view immediate needs year-round! ~
Clothing racks and gift cards are also accepted. Drop off location is in the front office at Bastrop High School at 1614 Chambers Street. If you have questions about Christian's Closet, please call the BISD Service Center at 512-772-7100.