Return to Headlines
Life of a First-Year Teacher: Meet Jesse Martin from CCMS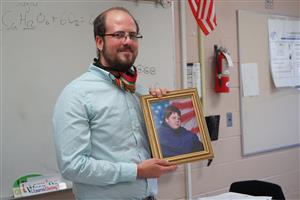 (This is the first in a series of articles following Mr. Martin during his first year of teaching.)
Walking down the 300 hall at Cedar Creek Middle School you might hear Fleetwood Mac coming out of a classroom between passing periods, or you might notice framed photos of a cool middle schooler with a smirky grin next to a goth high schooler. These are just some of the ways first-year science teacher Jesse Martin is making connections with his students.
"I thought it would be neat to show the students what I looked like in eighth grade and in high school. Let them see the different changes I went through as an awkward middle schooler to a gothed-out high school student," said Martin.
Martin begins class by asking students how they're doing and telling them the vibe he wants for the day's class. "It could be an informative, chill or fun vibe depending on what the lesson plans are for the day," he said.
Martin hasn't taken the traditional path to becoming a teacher, but teaching has always been in his blood. He's worked as a career coach at Down Home Ranch in Elgin and later a nature guide at McKinney Roughs in Bastrop. He also has experience as a residential advisor at the Texas School for the Blind and Visually Impaired in Austin.
"I had a teacher in high school that really left an impression on me, Kevin Gillion. He let me borrow his punk CDs and moshed with me at a concert. Instead of ignoring us in public, he joined in with me and my friends in the mosh pit and that showed me that he was a real person," Martin said with a smile.
While this year isn't how Jesse imagined his first year of teaching, he commented that the first few weeks of school have been going well. "I know it's been a good day when I can get through the seventh period with no discipline," he joked. "When the students first came back to school after being out since March, everyone was shy, but that newness has worn off."
The biggest struggle Martin said he has faced as a new teacher has been classroom management. "I wanted to hold them responsible for their actions and at the same time give students freedom from the beginning. I've learned that I should have done that backwards and worked up to more freedom," Martin said. He also added that due to COVID, the preps for each class are different due to being an online and onsite format, something new teachers would generally not face.
"Another challenge is students and their cell phones," Martin commented. He said the students love to play Kahoot, an online quiz game, which he does this at the end of some classes. This combines the urge for students to be on their phones with something educational that they really enjoy doing.
Martin said he has reached out to his colleagues for guidance when needed. Fellow science teacher Rebecca Van Houten provides assistance with discipline tips and navigating the online programs.
Martin has definitely hit the ground though, picking up extra duties as an afterschool ACE teacher. He works with the students doing gardening, a special knack he picked up while at McKinney Roughs.
In Martin's free time, he enjoys working in his gigantic greenhouse and around his newly built earth home. If you have a free moment, stop by his classroom and ask about that. It's the one thing he says most people would be surprised to know about him.