About Me
FIND YOUR VOICE!

Ms. Cynthia Smith [aka Symphony by her friends] holds Bachelor of Arts degrees from University of California, Riverside in Theatre and English.

Over the past twenty-one years, Ms. Smith created, developed and implemented innovative theater and choral curriculua for middle and high school students in San Bernardino, California; Riverside, California; Los Angeles, California, and now Bastrop Texas at Bastrop Middle School. She and her students successfully expanded each program to incorporate all levels of experience-from beginner to advance.

Here at BMS, she started the Bear Tales 'n Paws Theatre Company (T 'n P est, 2018), empowering her middle school students by teaching them how to run their own successful theatre company serving their school and community. Beginning stagecraft students learn the artistic elements and history of design, the production process and management in their technical theatre courses.

While the performance classes focus on mastering acting techniques by studying history, various acting styles, technique, script analysis, character development and self-expression. Advance students represent T 'n P producing their own shows, and using what they acquire in the beginning course work. During productions and performances, students have several opportunities to practice leadership skills ranging from stage management to directing.

As a company, we are most excited to be a part of the International Junior Thespian Society of Texas, Troupe #89184. This honors program allows us recognize students for their exceptional theatrical and academic success. As members of the Jr. Thespians, participants have the wonderful opportunity to continue their membership into high school. In addition, our program allows young people to help raise awareness about performing arts in their community. We also strive to partner with programs in our local community like the historical Bastrop Opera House, and Academy.

Ms. Smith loves encouraging young people through her theatre classes, performance workshops, John Maxwell's YouthMax Plus leadership training, summer camps, storytelling workshops, after school activities, and Open Mic programs. Prior to moving from California to Texas, she performed original poetry in local venues, and at various conferences. She continues her work local community. Her greatest joy is when she is producing, directing, or appearing in plays. Friends have frequently found her, hosting women's conferences, mixed mics, hosting pastor and church anniversaries, and special events in the community.

This professional speaker, poet, and host strives to connect to her students, her community and beyond. One of her favorite quotes is, "People don't care how much you know until they know how much you care." Her desire is to learn as much as she can from others. "I want to know their heart!"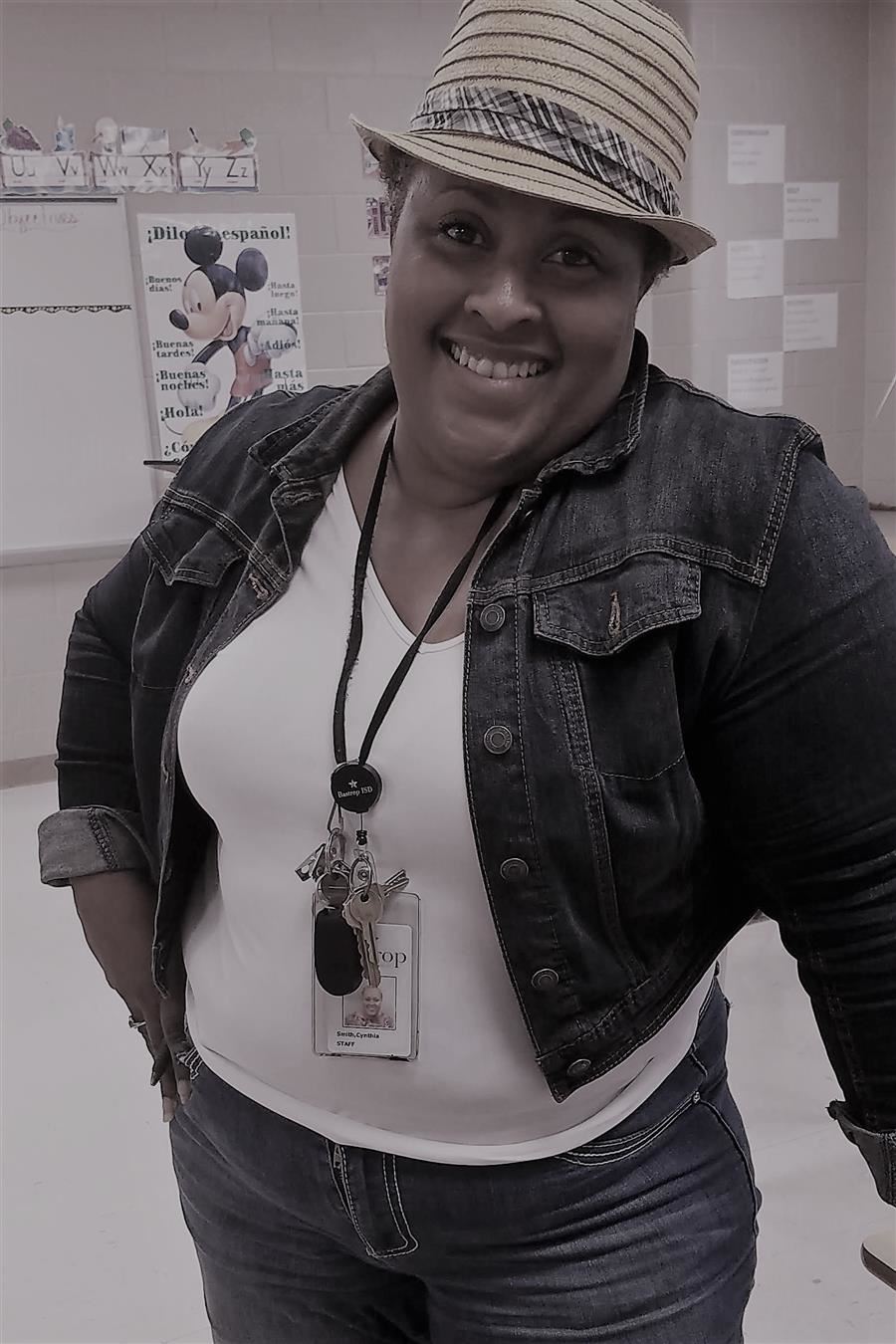 Contact Me
CONTACT ME
Cynthia Smith

Email: csmith2@bisdtx.org

Conference Time: 2:12 - 3:04

BMS phone: 512-772-7421

Office Hours: By Appointment