Return to Headlines
Lindsley Wins Best of Bastrop at 17 Years Old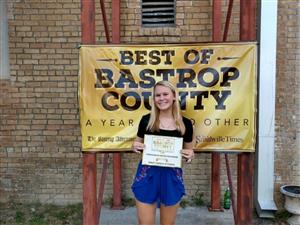 Sign up for a cycling or body toning class at HT Fitness and you just might get a surprise, not because of how many crunches you will do or how sore you will be afterwards, but rather who you will find leading the class. We're talking about 17-year old Bastrop High School junior Trinity Lindsley (who was just 16 when she started her journey as a certified fitness instructor). Trinity was recently crowned Best Fitness Instructor in the Best of Bastrop County 2020 awards.
The Best of Bastrop County competition is hosted by the Austin American-Statesman. Each year the community votes for the top businesses and individuals from around the county in a number of categories such as restaurants, doctors, auto repair, and health and fitness.
"All of the people who were nominated are so inspiring to me, and I look up to them very much, so I was grateful to have won," Trinity said. "It's so amazing, especially since this is something I am very passionate about!"
Trinity is no stranger to fitness. Her parents Vanessa and John Lindsley owned a gym while she was growing up, and she has been involved in fitness her whole life. "I've been in this environment so much throughout the years. Health and wellness is second nature to me," she said.
When asked who inspired her, Trinity gave credit to her mom who she says taught her that prioritizing your own health isn't selfish. Instead, it's a way to be available to take care of other people and how to be a strong woman, not just physically but in all the areas of her life.
"We are so proud of Trinity! She has always been an encourager who cares deeply about others. When she came to us and said she wanted to become a certified fitness instructor, her dad and I thought it was the perfect job for her. She has worked really hard this past year, and it's nice to see her reaching those goals," said mom Vanessa.
Trinity is already making a difference at such a young age. Those who attend her classes range from fellow students at Bastrop High School to the young at heart.
"I've had Trinity as an instructor for cycling and core blast. Her bubbly personality and enthusiasm make her classes so much fun. I wouldn't think anyone could make 30 minutes of straight ab work fun, but Trinity does," said Jenny French, an HT Fitness member.
Lindsley wants to make health and wellness a part of her future and plans to study dietetics and nutrition in college. She says she would love to combine a career as a dietician with teaching classes and managing a gym. "Helping people conquer their health and wellness goals and encouraging them to do hard things in a space where many are intimidated would be very rewarding," Trinity said.
As a high school student, Trinity's days are filled with classes, cheerleading, PALS, powerlifting, Fellowship of Christian Athletes, and being treasurer for the Junior Class. Still she says she plans to start on a personal training certification in the near future, but it's a matter of incorporating that into an already busy schedule.
"I work hard at balancing work, school, family and friends," said Trinity. "I really don't have tons of time for hobbies, but I like to consider myself the number one member of the Taylor Swift fan club! I also love my friends and my family and spend time with them as much as possible."
Anyone willing to show up at HT Fitness at 5:30 in the morning can catch one of Trinity's classes, and she promises to make it fun with a dark room, party lights and a fresh playlist, but she cautions that the power of the pedal is up to you.
"Thank you to everyone who voted. I feel very honored that people trust me to help them make a difference in their lives. I don't take that lightly. I hope they all see that we are more than conquerors, and we can have a little fun along the way!"