Return to Headlines
COMING TO BASTROP: A World of Dreams ... A Journey of Discovery & Inspiration with Ron DeShay
Beverly Hills, CA, August 30, 2022 – The World of Entertainment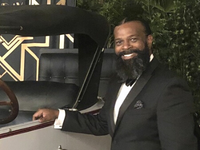 Group is pleased to announce the grand opening of A World Of Dreams: A Journey Of Discovery & Inspiration with Ron DeShay. The weekend of events is scheduled for October 7-9, 2022, in Bastrop, TX.
Following a global pandemic, political upheavals, economic shutdowns, and a looming economic recession, for many Americans, it has been challenging to find reasons to remain optimistic about the future. Internationally acclaimed television producer, public speaker, and singer sets out to inspire like he's never done before! Introducing A World of Dreams: A Journey of Discovery & Inspiration with Ron DeShay, a motivational speaking tour like no other.
A WORLD OF DREAMS: A JOURNEY OF DISCOVERY & INSPIRATION looks into DeShay's personal odyssey to encourage people of all ages to continue to believe in their dreams but also to pursue them. It is a magical journey that highlights Ron's early life and career in television and the pivots and tough decisions he made during COVID. DeShay will share how he turned his setbacks and losses into accomplishing his biggest dreams through conversation. Through shared experiences on how to reframe the negatives with performances of original music, other visual mediums, and performing arts, DeShay will show audiences how to uncover opportunities in the middle of life's biggest challenges. A World of Dreams is not just another motivational speech. For those who experience it, it will be an unforgettable event.
Performances choreographed by Lacey Schwimmer, "So You Think You Can Dance" finalist, will include the International recording artists GET UP Soul Choir and Will Oaks.
"If we dream it, it can be done." says Ron DeShay, CEO, President & Founder at World of Dreams Entertainment Group.
A Bastrop, Texas native, Ron DeShay was one of the developing and Senior Producers of American Idol. When Idol debuted, it was dubbed, The Show That Broke Television in its early write-ups. Ron's success on Idol was followed by developing and producing many other top television series. Among them is another FOX hit, So You Think You Can Dance. Ron is a 3-Time Emmy nominated producer for his efforts on Idol and Dance. Those strong foundations allowed him to expand his industry bases over the years quickly. After spending over two decades as an industry exec, producer, director, and content creator, Ron recently closed a significant funding deal to launch his own television network and streaming platform.
The tour will also introduce The DeShay Foundation – An Endowment for Aspiring Students of Business, Television, Film, and the Performing Arts. Annually, The DeShay Foundation will give Impact Scholarships to deserving students. These scholarships were created in honor of the late Jerry Wilhelm for her great influence in honing the gifts, talents, and dreams of tens of thousands of theater art students. Her impact is still being felt today. Through The Endowment, DeShay plans to bring one major event to Texas annually. Ron committed to working with and engaging students to provide all production elements for these events as he produced the Sounds of Sharing event in 2014 (when we brought in a cast of American Idols).
About Ron DeShay
Ron is an impactful motivator and mentor to many who desire to go after what may seem undoable. He makes impossibilities become a reality. Ron did his undergraduate studies at Clark Atlanta University, an HBCU. He is also a graduate of Harvard Business School. DeShay and his company are the subjects of 2 HBS case studies. He has been a keynote at Harvard Business School and several HBS functions worldwide. In addition to being a guest lecturer at Harvard Business School this past fall and spring semesters, he has also been a keynote speaker at Brown University. In addition to his audiences in the field of higher education, Ron regularly speaks at major conferences and events in the US, Europe, and the United Arab Emirates.
About World Of Dreams Entertainment Group
World of Dreams Entertainment Group is focused on leveraging innovative technologies to transform the way content creators develop, market, and produce their content by collaborating with the people who watch it. This Harvard Business School award-winning strategy was developed by the Founder of World of Dreams, Ron DeShay. HBS alumnus and former producer of American Idol and So You Think You Can Dance. DeShay recently closed a $1.6 Billion capital raise to fund the launch of World of Dreams' new streaming platform, The People's Network. It is scheduled to launch in the last quarter of 2022. DeShay and World of Dreams understand that Millennials and Gen Z audiences prefer to receive their entertainment differently than past generations. At World of Dreams, we are creating content for the Millennium and beyond!
BISD STUDENT TICKETS FOR EVENT