Return to Headlines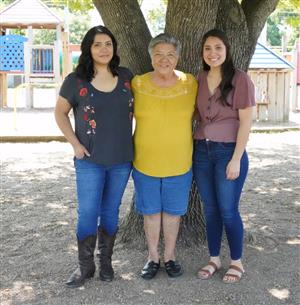 If you've visited Mina Elementary in the last couple of years, you may have crossed paths with a soft-spoken, always smiling custodian named Amparo Rubalcaba. She's worked as a custodian for Bastrop ISD since 2005 including at Bastrop High School, the Service Center and most recently, Mina Elementary.
Amparo's story is different from most but relatable to many. Amparo grew up in Villa Hidalgo Jalisco, Mexico and worked in fabric factories while she was there. In 1994, she met Ruben Rubalcaba in a convenience store. He was visiting family in Mexico but was living and working in Bastrop. The courtship began with each writing letters back and forth. Within a year, the two were married and Amparo was on her way to Texas.
"I came to Texas for my honeymoon and never went back," she said with a smile. The couple had a daughter the following year, Guadalupe, who friends and family call Lupita. They had their second daughter Beatriz four years later. Ruben worked as a surveyor in Bastrop for 27 years while Amparo took care of the girls.
In 2003, Amparo received her residency. "I love Bastrop. When I go visit my family in Mexico, I miss Bastrop. Although the culture is different, and I miss my family, I am accustomed to Texas now."
She began working for Bastrop ISD in 2005 at what was then West Campus. "I enjoy seeing the kids every day," Amparo said. "I love my work."
In 2007, the family faced an unforeseen tragedy when Ruben passed away from cancer. Amparo was left to raise two young children, a 12- and 9-year old, on her own. While the Rubalcabas do have extended family in town, Beatriz said, "we're our own small family that is always together. We support each other and do everything together."
Amparo instilled the value of hard work and determination in her girls. "My mom always pushed us to work hard and become something," Beatriz said. And that is exactly what both girls did.
Lupita attended Bastrop ISD from kindergarten through 12th grade, as did Beatriz. Both girls worked during high school while participating in the district's Health Occupations Students of America (HOSA) program and continued their love for the health field after graduation. Lupita is currently working at an assisted living facility as a Certified Nursing Assistant (CNA). Beatriz is currently in school to become a registered nurse, having completed a bachelor's degree in biology earlier this year. She also works as needed at a nursing home in town.
When asked why they wanted to go into the healthcare field, both girls had a very compelling reason. "I saw how the hospice nurses cared for my dad and my family. I wanted to be able to do that for someone else," Beatriz said.
"He would have been proud. Ruben always said he wanted to see the girls grow up and do something with their lives," Amparo added.
Raising two daughters as a single mother in a small town proved to be tough but doable. Amparo gave the advice to always "keep going even when it's hard. Never have the mindset that you can't do something, because you can."
Beatriz added, "I saw what my mother went through. Kids see everything and I used it for motivation."