Return to Headlines
ACE LEGO Club a Virtual Hit for Students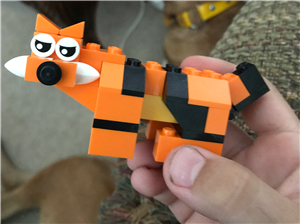 The ACE afterschool program has incorporated new clubs this year, including the LEGO Club, that has been a hit with intermediate and middle school students.
"The students have thoroughly enjoyed creating the builds. Who knew a fun toy like LEGO could be academic!" said April Lewandowski, ACE Family Engagement Specialist.
The LEGO Club meets virtually once or twice a week. Students are issued a LEGO kit and receive weekly challenges to build. Some of their most recent creations include creating an animal that reflects a personal characteristic, creating a meal for a giant that must include a side dish and creating a tree house that has either a swing or a creative way to get up into the tree house.
Celebrity guest judges from the community are invited each week to judge the creations. Judges have included Alison Hall, Dr. Kristi Lee, Becca Sexton, Mayor Connie Schroeder, Ashton LaFuente, Barry Edwards, Kaye Sapikas, Becki Womble and Terry Moore.
"I had an incredible time judging the ACE Lego club projects! I was so very impressed by the students enginuity, creativity and their ability to articulate their Lego Tree House designs. I was particularly struck by the creativity they demonstrated on the ways one could gain access to the Lego Tree Houses such as levitation, knotted rope, driving a car and one was even accessed by helicopter! Wish I could visit all these futuristic Tree Houses," said Barry Edwards, Superintendent of Bastrop ISD.
"The best part for me is watching them improve on their public speaking and presentation skills when on Zoom calls with our celebrity guest judges. I'm infinitely proud of them," added Lewandowski.
Other clubs that have been added to the ACE afterschool program include Podcast, Cooking, Crafting, Theater, Debate, STEM/4-H, Coding and Karate.
ACE is offered at every Bastrop ISD elementary, intermediate and middle school. For more information about ACE, including how to enroll your student, visit www.bisdtx.org/ACE.