Return to Headlines
Spotlight on BHS Teacher Dawn Vinklarek, Hometown Girl
Dawn Vinklarek is a hometown girl through and throu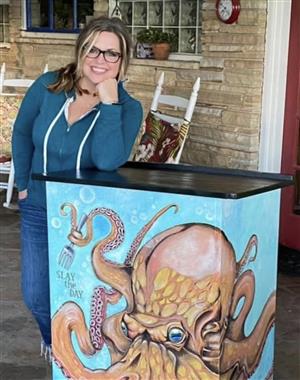 gh. If you want to know anything about the Bastrop area, Dawn can probably tell you.
Born and raised in Bastrop, she attended all BISD schools throughout her childhood. She started in Kindergarten at the now-Mina Elementary, then to Emile Elementary, back to the Mina site for Intermediate and junior high, and then to middle school where the Colorado River Collegiate Academy is now located. Dawn finished out her high school years at the current Bastrop High School.
She then took a brief stint outside of Bastrop County (the only time in her entire life) to attend Texas A&M University, but she quickly returned and began her teaching career at BHS in the spring of 1996.
"All of our family, on both my side and my husband's side, live in the area. We knew we wanted to raise our kids around all their grandparents, cousins, aunts, and uncles," said Dawn.
Dawn and her husband Mike have three children, Cody, Clay, and Carlie. All the family but one are BHS graduates, with the youngest set to graduate in May 2024. Clay, while not a Bastrop High School graduate, is a Bastrop ISD graduate, having walked the stage with the Cedar Creek High School class of 2020.
Dawn has held several positions at BHS and CCHS. Early in her career, she was an art and biology teacher in two different classrooms. She even helped start the ceramics program at BHS. When CCHS opened in 2010, she transferred to be the art teacher at the brand new campus.
"I feel very honored to have opened CCHS where I taught art, ceramics, and student council for the next 10 years," Dawn said. It was during this time that she had one of her most memorable experiences. In 2016, she served as the Conference Coordinator for the State Student Council Convention in Arlington representing both Cedar Creek High School and Bastrop High School.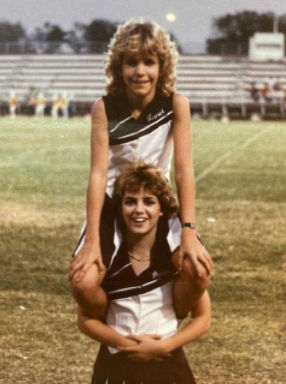 With a plan to build a home with Mike on their family land, Dawn spent the next school year just down the road in Smithville ISD. It didn't take long, however, for her to find her way back to Bastrop when a biology position came open at BHS.
"It was a no-brainer because my daughter, Carlie, will be a sophomore at BHS, and BHS is just home. So here I am. Full circle. Back to teaching biology where I first started 26 years ago," Dawn said.
During her career, Vinklarek said she was either a student of or worked with many of the Bastrop ISD greats. "Vivian Kreitner, Patsy Trigg, and Jerry Wilhelm were a few of the greats that I had for teachers," Vinklarek said with pride. "Terry Hamm was and still is an inspiration to me as well, and helped me stretch my leadership wings as a Student Council advisor."
As much as those BISD greats inspired her, Dawn has undoubtedly inspired others along the way. When asked what advice she would give a new teacher, she says, "Make those connections! You can prepare awesome lessons and know EVERYTHING about EVERYTHING, but kids don't care how much you know until they know how much you care."
And care she definitely does. In addition to teaching and Student Council leadership, she also led the district's childhood cancer campaign called Hope Strong that raised over $150,000 for St. Jude Children's Research Hospital, an accomplishment she rates at the top in her career.
Bastrop ISD is happy to have Dawn back at Bastrop High School, continuing to make a difference in the lives of our students and fellow staff.