Return to Headlines
Faircloth Takes the Helm at Bluebonnet Elementary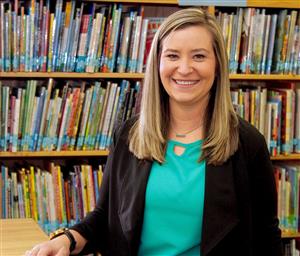 Bastrop ISD has selected Laura Faircloth to be the Principal of Bluebonnet Elementary School. She replaces David MacRoberts, who resigned to accept a position in his hometown earlier this semester.
"I am so honored to have been chosen as the new principal of Bluebonnet Elementary School, which has such a special place in my heart!" said Faircloth. "I appreciate this opportunity and the trust the district has placed in me to lead, and I will do my very best for Cardinal students and families."
Faircloth has served as Assistant Principal of Cedar Creek Intermediate School since 2019. During her time at CCIS, she spearheaded a guided reading initiative, enhanced use of technology among teachers, as well as co-leadership of a comprehensive Professional Learning Community initiative as part of the district's overarching goal for teacher professional development.
From 2015-2019, Faircloth was lead counselor at Bluebonnet Elementary where she focused on character education as well as small groups for peer guidance and development. Laura has also been an elementary teacher in both the Alief and Bastrop school districts. Her experience in all facets of the educational experience from the classroom, to the counselor's office, to her role as an assistant principal provide a well-rounded perspective and range of experience that will serve the school well.
"We made a commitment to our Bluebonnet staff and families that we would seek out the best principal we could find, and we didn't have to look far in selecting Laura," said Superintendent Barry Edwards. "She is tremendously talented and is passionate about helping students succeed. Most especially, she has a heart for Bluebonnet Elementary that is unmatched, and I'm confident she will do a great job!"
Faircloth holds a bachelor's degree in early childhood education from Texas A&M University and a master's degree in school counseling from Lamar University.