Return to Headlines
CCHS Senior Gwen Ibarra Headed to Harvard
Harvard released that they have the lowest acceptance rate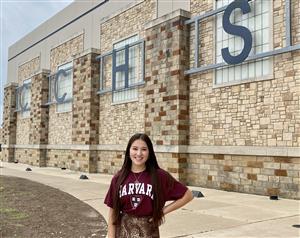 ofall time for the class of 2026 but that didn't stop Cedar Creek High School (CCHS) senior Gwen Ibarra from making the cut.
Ibarra will enter Harvard this Fall with the class of 2026 with students from all 50 states and 98 different countries. She will take along her experiences in Bastrop ISD, having attended BISD schools since third grade starting at Bluebonnet Elementary.
"At Bluebonnet Elementary, Mrs. (Tracy) Hall was one of the teachers who motivated me and believed in me," she said. Ibarra also shared stories from Cedar Creek Middle School teachers Tiffany Peirson and Alan Laurent stating what great teachers they both were. Gwen also credits Cedar Creek High School teachers Dr. Allison Bumsted, Khaled Sankari and David Hasan with having challenging and engaging classes throughout her high school career, and without a beat, mentions academic counselor Yvonne Bosarge for her guidance.
No doubt Gwen left a lasting impression on her teachers as well. Tracy Hall, who now teaches second grade at Bluebonnet Elementary, spoke of what a true leader Gwen was even in the fourth grade.
"I still have her picture hanging on my wall. We went on a field trip to San Antonio, and I made all the students tie-dyed shirts," Hall fondly remembered. "She was just a wonderful student who made such good choices."
While attending Harvard, Ibarra will major in neuroscience and hopes to focus on finding treatments for Alzheimer's and dementia.
"This field is close to me because of its impact on my own family. During my sophomore year, I took AP Psychology and really enjoyed it. It was the stepping stone into looking into it more on my own."
Gwen's work in the Alzheimer's field has technically already begun. She helped charter the Leo Club at CCHS and served as the president her sophomore, junior and senior years. One project the group participated in was the Longest Day, which raises awareness and money for the deadly disease.
Ibarra has also participated in several other clubs during her time at CCHS including being the president of the National Honor Society. She is also the board president of the Youth Building Networks for Change, which is a youth-led, non-profit organization run by McKinney-Vento students. Gwen also dances for the Eaglettes and plays the saxophone for the varsity band, in which she is also a section leader. She also participates in the Youth Advisory Council (YAC) for the City of Bastrop.
Gwen has earned credits recently in the media, having been featured in KVUE's "Our Future" series showcasing students for their academic achievements and overcoming obstacles. She also was interviewed by New York Times writer, Jason DeParle for a story covering the BISD McKinney-Vento program and its impact on the lives of students experiencing homelessness.
"I could not be more excited for Gwen! I've had the distinct pleasure of witnessing her tremendous commitment and perseverance through the years. I am not at all surprised that she will be amongst the Harvard elite," said Cedar Creek High School Principal Bridgette Cornelius.
While Ibarra can't wait to make the transition from Texas to Massachusetts, she did say, "I'll miss my mom the most, but it will be good to get out in a big city. It'll be exciting!"
Exciting for Gwen and exciting for the community that has watched her grow from an 8-year old child to a young woman ready to embark on a whole new challenge.
"Gwen is so deserving of this opportunity and I have no doubt that she will make a positive impact on our global community!" concluded Cornelius.