Return to Headlines
Kisamore to Take Helm of Colony Oaks Elementary School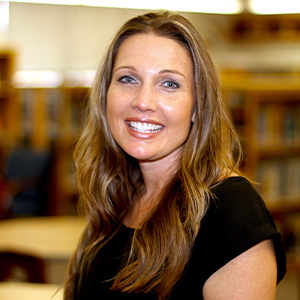 Bastrop ISD has tapped Bastrop Intermediate School principal Kristi Kisamore to serve as the inaugural principal of Colony Oaks Elementary School, one of two new elementary schools Bastrop ISD will open in August. She is expected to assume the position in the coming weeks.
"It is such an exciting time to be in Bastrop ISD as we open new schools and continue the meaningful work of helping students achieve at high levels," said Kisamore. "I am grateful for the opportunity to lead Colony Oaks and am confident that we will create an amazing school community. I hope our new students and families are as excited as I am!"
Kisamore brings more than 15 years of education experience to her new role. Her diverse background includes teaching experience in kindergarten and first grade in both Bastrop and Hillsboro schools (2007-2013) as well as elementary leadership roles as Response to Intervention Coordinator (2013-2015) and Instructional Coach (2015-2018) for Red Rock Elementary. She transitioned to campus administration in 2018 when she became an assistant principal at Bastrop Intermediate School. During that time, the school increased their accountability rating 18 points and decreased the teacher turnover rate by 20%. Since 2020, Kisamore has served as principal of the same school, which has a B rating for academic growth and which consistently meets academic and attendance targets, as well as staff retention goals.
"Mrs. Kisamore is an exceptional leader as evident in the positive culture and growth of her current school," said Superintendent Barry Edwards. "She has a tremendous passion for students and teachers alike and has a history of school improvement to draw from as she takes on this new leadership role. I have no doubt she is the person we need for Colony Oaks, and she will do a tremendous job!"
Kisamore's immediate focus will be hiring a leadership team as well as teachers and other staff, creating instructional and operational schedules and the budget, coordinating furniture delivery and installation, and helping to monitor the remaining months of construction with district leadership. She says her focus also will be on establishing relationships with families, especially students who will be transitioning to Colony Oaks from other schools. She also will lead stakeholders in selecting a school mascot.
"I appreciate the confidence and trust that others have in me to open and lead Colony Oaks Elementary, and I will devote myself to ensuring that students, staff, and families have a place and a part in our future success," said Kisamore.
Kristi holds a Bachelor of Business Administration from University of Texas at San Antonio as well as a master's degree in education administration from Lamar University. She and her husband Lindsey make their home in Bastrop and have three children.